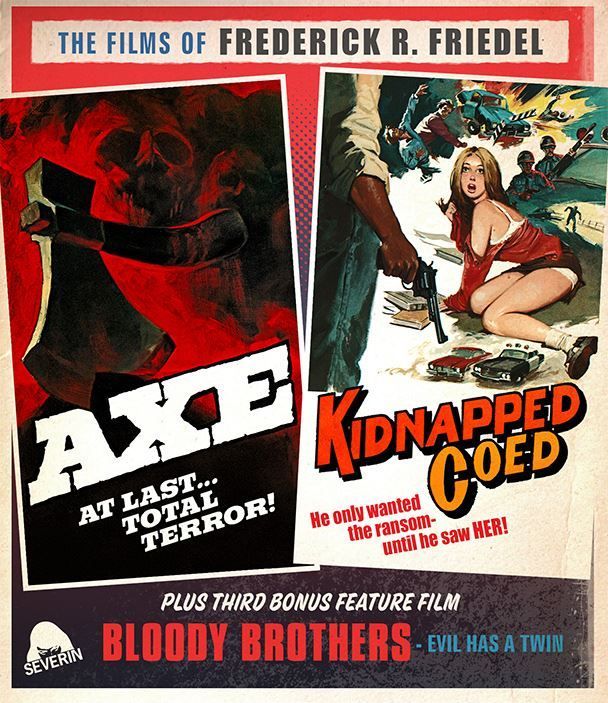 Severin Films has announced that they have been working very hard on the mammoth amount of Special Features going into this release.
Severin Films admitted that this is the best and most comprehensive bluray they have ever released with OVER 2 HOURS of Special Features directly related to AXE/Kidnapped Coed (unlike the Something Weird Special Features).
While not officially announced yet, I can share the following Special Features:
COMMENTARY
with Frederick Friedel (writer/director/actor), Worth Keeter (make up artist), Phil Smoot (production manager) and Rick Helms (production assistant).
FEATURETTE
Cast/Crew Reunion, Interviews, Location Visits, Behind-the-Scene Memories, Interview with Frederick Friedel about the tragic chain of events with Harry Novak Pictures that caused him to abandon film making, etc...
MOOSE MAGIC: The George Shaw & John Willhelm Story:
A brand new documentary tribute about the two young men who composed the score for both films and were tragically killed soon after the films release.
COMPLETE SOUNDTRACK
for both AXE & KIDNAPPED COED by George Shaw & John Willhelm.
BLOODY BROTHERS
: A feature-length film mash-up of both AXE & Kidnapped Coed. (Jack Canon played the lead in both films, in Bloody Brothers, he plays twin brothers who were separated at birth, on a murderous rampage at the same time, bringing their paths closer and closer to meeting.)
This original Video Nasty will be a
SPECIAL LIMITED EDITION
by Severin Films, making it also a Collector's Edition.
Severin Films announced to Fangoria Magazine that release date is looking to be in July or August. Severin told me copies with Exclusive material will be available directly from them before the release date.
You can keep up with the latest information at the Facebook page for AXE at
facebook.com/Axe1977