New giallo spoof via Astron-6:
"A once-prolific film editor finds himself the prime suspect in a series of murders haunting a seedy 1970s film studio in this absurdist throwback to the Italian Giallo."
Trailer (NSFW!)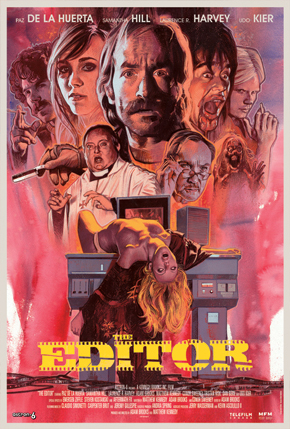 Variety review:
Quote:
The pitch-perfect screenplay (by Brooks, Kennedy and Conor Sweeney, who plays an ambitiously vain actor) does an ace job of mimicking the common faults of giallos, especially in their badly dubbed English-language versions: the tin-eared, ill-synched dialogue ("Don't worry … we'll catch the killer who killed her!") that probably wasn't much better in its original Italian, the taken-for-granted sexism, the narrative logic that seems to have flown several script drafts ago, if it was ever there. As in so many of those movies, the revelation of the maniac's identity seems wholly arbitrary.

Stylistically, too, the pic does a great job of reproducing its models' distinctive cinematic language, from the gratuitous sexy-young-body ogling (including a fair amount of full-frontal nudity) and over-the-top if none-too-convincing gore to the garish lighting effects, zoom lensing, awkward editing jumps and spooky synth rock. While the giallo era began some time earlier, the pic takes its cue from late-'70s/early-'80s entries, when the genre was in slow decline. (Think Lamberto Bava rather than Mario Bava.) It also mimics the films' general shift during that period from psycho chills to supernatural phenomena, while maintaining slasher-grade body counts.

Delightful as all this careful mimicry may be for fans — who will recognize nods to specific films like "Suspiria," "The House by the Cemetery" and "Murder Rock" — it will probably draw a blank for those who haven't waded into murky giallo waters. There are some outright goofy gags, especially as "The Editor" goes on, but the humor here is primarily a matter of loving stylistic parody delivered in deadpan fashion.
Picked up by Scream Factory for US release.
No word yet on DVD/BD release date.